TOP
> What is the Japan-China-Korea Program? > Message to the program students

Message to the program students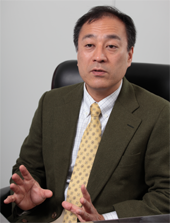 Akio Okayasu
Professor, Graduate School of Marine Science and Technology, Tokyo University of Marine Science and Technology. Vice Chief, International Exchange Promotion Office. Specialties: Marine environmental studies, coastal engineering
This program was launched as an "exchange program between Japanese, Chinese and South Korean universities in order to develop human resources in the "environmental and energy" field that can realize the sustainable and efficient use of energy associated with the environmental protection and restoration of areas shared by these three countries (East China Sea, Yellow Sea, Sea of Japan). Professor Akio Okayasu is in charge of this program from this year and we asked him to describe the program overview and its goals and give a message to prospective international students.


The main point of this program is to develop human resources in Japan, China and South Korea under the keyword of "the ocean". In particular, as our university is a marine-related university, I think it is important to focus on the "ocean" and consider how it is involved in Japanese, Chinese and South Korean joint human resource development. When universities were first invited to apply to adopt this program by the Ministry of Education, Culture, Sports, Science, and Technology, the program was presented under the theme of "environment and energy"; however we thought it could be an effective educational program if we could meet the "environment and energy" theme under one of our university's key words "the ocean", which was a program that we would definitely like to implement as a marine-related university. I thought that the "marine environment" and the "reduction of energy consumption" in line with the latest environmental trends were themes that met these two requirements. I think the "marine environment" is a concept that is relatively easy for the general public to understand - a concept that involves cleaning the ocean and being able to catch more fish, etc. The "reduction of energy consumption" on the other hand means the more efficient consumption of marine-related energy. A significant amount of energy is consumed by ships in maritime transport, however more efficient energy consumption is possible by selecting optimal routes with the flow of the tide and the weather as well as by making improvements to boat engines, etc. Marine environment and route optimization research, etc. is carried out at this university and the ability to utilize the results of such research is also a major advantage of our university's program.


As I mentioned, I think the setting of our university's program theme itself was highly consistent with the research carried out at the university and its geographical situation. I believe another major factor is that our university has been engaged in a variety of academic exchanges with marine-related foreign universities, particularly Chinese and South Korean universities, for quite some time. As our university has actively accepted exchange students in the past, a foundation is already in place, and we would continue to receive many requests to accept students from partner universities. As we had this foundation, it was possible for us to put together an attractive educational program that Chinese and South Korean students would want to enroll in and as a result our program was evaluated as being highly concrete and realistic.
In addition, there are many examples where international students have completed courses at our university and become university faculty members after returning to their home countries. Many of these individuals are employed in important positions within their universities. By having graduates of our university assist in the selection of new students from the respective universities in which they are employed, we could expect to have excellent students enrolling in this university. It is difficult to achieve our wish of assembling outstanding students through the simple putting-up of posters and handing-out of pamphlets, so the reliability of our selection system is increased by having our graduates and related faculty members play a key role in the selection of new students. As well as the adoption of the program itself, enrolling outstanding students, training them, developing them into human resources and having them utilize their skills in the real world as expected will of course be important over the long term. I believe our university has materially shown that it is able to achieve such a feat.


Initially we wanted students to complete the master's course and utilize their skills in the corporate world including Japanese companies; however 70% of actually enrolled students hope to continue onto a doctoral course. Therefore, we are considering establishing a pathway program to the doctoral course from the next academic year. The additional benefit of doctoral graduates of our university gaining employment in the field of education and research at universities in their home countries is that these graduates are able to spread their marine knowledge to their home country and essentially reproduce the education that was provided to them. We Japanese have experienced environmental and energy issues in the form of pollution problems and the oil crisis, etc. and hold the technology based on the experiences and consequently philosophies and thoughts born as a result on a national level. It can also be said that the experience of last year's Great Eastern Japan Earthquake further increased awareness of environmental and energy issues. We expect that our international students will be able to take the technology and concepts born from these Japanese experiences back to their home countries and utilize them.


Specialized study and research guidance can be provided in English, however there are also lectures offered in Japanese. Part of the reason for this is that it is difficult to learn Japanese consciousness, thoughts and ideas by solely utilizing English in everyday life. We wish for our students to learn Japanese as an essential tool in their daily lives and cultural understanding of Japan. It goes without saying that Japanese will also be necessary if they gain employment in a Japanese company.


We welcome students who which to actively study the ocean. Research of the environment and efficient use of energy cannot be undertaken by those with only general knowledge. However, while specialized knowledge is an absolute requirement, in reality there are very few people working as "environmental protection" specialists. Rather than studying with a sole focus on the environment, our students will be able to capture environmental issues within their own areas of expertise and therefore fundamental study will be important. Please continue to diligently study the fundamentals at the departments and laboratories that you belong to at present.